Luxapolish Canada
Meet Luxa
We like to keep things simple and straight to the point. Quality.
Always. We don't just sell Luxapolish, we use it. We are Luxapolish.
California based, Luxapolish was founded with one goal in mind - to
provide Nail Techs with the highest quality nail products. We believe in
what we sell. All Luxapolish products are personally used by the
Luxapolish team. Before bringing a new product to market and featuring
it on our site, each product is tested and refined until we are happy
with its quality…and it takes a lot to make us happy.
Founder and creator, Leah Palhegyi, has extensive industry experience
and has had a passion for nails from a young age. She enjoys sharing
her knowledge with Nail Techs looking to grow their business and master
their craft. Through much trial and error, Leah has a deep understanding
of the importance of customer service, proper education, techniques and
quality products for a successful business and long-lasting nails.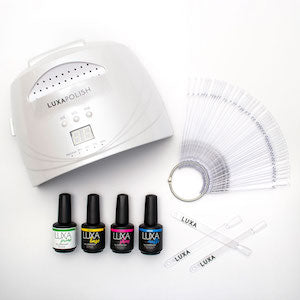 Become Part of the Fam
Retailors
Have you been using Luxapolish, and now want to offer more? Join our retail family and offer your customers a premium selection of polishes and enhancements.
Trending Now . . .
Our store
116 Hampton Road
Rothesay NB
506.849.0016
Monday
9am - 5pm
Tuesday - Thursday
9am - 7pm
Friday
9am - 5pm
Saturday
10am - 2pm